As like every Thursday here at Mumfection I have been given the honor of co-hosting, along with my other great blogging buddies:
Home Maid Simple
, and
Tim and Angi's Blog
to bring to this great meme we have created: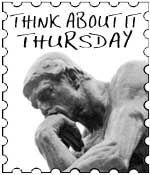 I would also like to mention that we are looking for some other great new co-hosts that would love to help us get this meme off the ground some more! We would love to have you along, especially if you are of one of those elite super blog hoppers :) please message me!!
This Week's Topic
: 5 things you are thankful for!
Since I am Canadian and this is rather Thanksgiving themed I thought I would take a funny route. I have done the mushy thankful stuff already so why not just have some fun with the topic right??
I am thankful for Santa Claus, as he gives me a small window of time where I can bribe my kids all year round without the use of candy or money.
I am thankful for my sweet baboo taking out the garbage, cause if it wasn't for him I would look like an idiot lugging a huge bag I can barely carry down to garbage can only to realize I now have to pick it up and swing it into the bin... imagine a cross between and orge and a bear...
I am thankful for grandparents, cause if it wasn't for them I would have to throw parties in my house WITH the kids home.
I am thankful for door locks, because without you I wouldn't be able to pee or shower alone.
Lastly I am thankful for Thanksgiving being in October here in Canada, cause now I have more than a whole month to just relax and basically fall off the face of the planet for a while until Christmas.
What silly things are you thankful for??
The ground rules:
No Giveaways or reviews please, we want to stick to our topic or whatever thought provoking topic you have decided on your own. We want to get to know you personally not what you like or give out right?
Make sure that you follow all the hosts via GFC and/or Facebook! (Mumfection, Home Maid Simple, Tim and Angi's Blog)
Only thought provoking posts, which is why we always have a great topic for you prepared in case you are just having a blank day.
Make sure your post has our Think About it Thursday button!

Have fun, make some friends, follow, comment thoughtfully and above all else be respectful! Don't forget to let people know which hop your visiting from!
Suggest a topic, this is not mandatory, but we would love your input and we will definitely consider it for future meme's!! If your topic is chosen you could end up receiving an e-mail giving you a chance to be one of the co-host's!!!
So link up and have some GREAT fun, meet some great new bloggers and of course welcome to all the new visitors and followers!! I love your comments and I can't wait to go check all of you out! Remember you aren't obligated to stick to the topic, heck talk about something that you're thinking about today, just keep it meaningful!! :)