As like every Thursday here at Mumfection I have been given the honor of co-hosting, along with my other great blogging buddy:
Home Maid Simple
, to bring to this great meme we have created: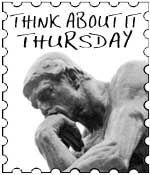 I would also like to mention that we are looking for some other great new co-hosts that would love to help us get this meme off the ground some more! We would love to have you along, especially if you are of one of those elite super blog hoppers :) please message me!!
This Week's Topic:
Childhood fears...
I have a fear of the Ocean, of the Ocean and ANYTHING in it. I find is all VERY creepy and absolutely terrifying.
I am not really sure where this fear stems from but i'm sure it is linked to the Disney Pinnochio from when I was a kid. Something about that whale was soooo scary... maybe even the little mermaid, even if I LOVED both those movies.
I can't even swim in lakes and NOTHING can touch my feet. If I am in a pool alone you will not see me go in the deep end even now. I rarely swim anymore anyways... no darn time... if I do go I have a child leach attached to me and I can't even enjoy the water.
I find this fear rather humorous considering I was always a HUGE water baby. It would always take a lot of bargaining to get me out of the pool as a kid, I imagine it to be much the same as other kids.
What are my other fears??
Zombies... scared shitless of them... have to have a see threw shower curtian for hte rest of my life, can't even watch previews of things with zombies.
In fact you know what?? I have nightmares, I even scream in me sleep if I see ANYTHING with zombies. The idea of being hunted down and eaten alive is horrific to me. The fact that kids movies are coming out about zombies, there is a HUGE pop culture thing surrounding them now is really not helping my mental state.... so stop it.... and get these things out of the damn halloween stores!!!!
The ground rules:
No Giveaways or reviews please, we want to stick to our topic or whatever thought provoking topic you have decided on your own. We want to get to know you personally not what you like or give out right?
Make sure that you follow all the hosts via GFC and/or Facebook! (Mumfection, Home Maid Simple)
Only thought provoking posts, which is why we always have a great topic for you prepared in case you are just having a blank day.
Make sure your post has our Think About it Thursday button!

Have fun, make some friends, follow, comment thoughtfully and above all else be respectful! Don't forget to let people know which hop your visiting from!
Suggest a topic, this is not mandatory, but we would love your input and we will definitely consider it for future meme's!! If your topic is chosen you could end up receiving an e-mail giving you a chance to be one of the co-host's!!!
So link up and have some GREAT fun, meet some great new bloggers and of course welcome to all the new visitors and followers!! I love your comments and I can't wait to go check all of you out! Remember you aren't obligated to stick to the topic, heck talk about something that you're thinking about today, just keep it meaningful!! :)