Disappointment.... something that all of us manage to deal with. Something that all of us swallow from time to time, leaving this dry bitter taste in our mouths...
And when disappointment plagues your family it is one of the hardest things to recover from. One of the harder things to move forward from.
Right now I am having to deal with this with my own father. My estranged mentally ill father whom I can no longer attempt to deal with.
I have given up.
There is nothing more to it, and there is nothing more that can be done about the situation. He is so delusional about his position in life, in my life that it is sad. I can't get past it and I can't teach this old mut any new tricks.
His constant venom spewing, his attempts at manipulating my every emotion and thought... unfair.
So I have decided that I can't fix the issue, I can't tinker in his head, I can't fix whatever it is his mother did to him, whatever it is HE is, I just can't. I don't want to, so much of my life wasted on thoughts of him.
Heartbreaking to hear a daughter speak of her father that way but it is all I can say. I am so void of emotion towards him that I am unmoved by his attempts. He is trying so hard to get a rise out of me when I just don't give a fuck.
Please forgive my language.
This man, my father, is a sociopath... how do I know this?? Look at this list of characteristics of a Sociopath, he fits the bill almost completely:
Inconsistencies between what a person says and does that often vary according to the situation at hand and what is in the person's best interests at the time. ("I quit smoking and drinking," yet he calls me clearly drunk and is seen picking up butts off the street in downtown Vancouver)
Ability to lie without blinking an eye, and make excuses or change the subject when caught in one. (don't forget he does it with a smile on his face too!)
Shamelessness when caught in a lie, or any other potentially embarrassing situation. (more like completely ignore it till people talk to him again... that's why he has no friends or family left... I was the last member... though I think his stupid younger brother still gets baited into his mind games.)
Skirting around issues and questions without really providing any response or answer. (I don't know if this is his illness or just that he is an old hippie...)
Ability to manipulate others without remorse unless they are someone the person is extremely close to. (even if he is close to them he doesn't feel remorse...)
Constant bouts of irritability and aggressiveness. (all I can say is YES, he goes from zero to 100 in moments)
Recklessness and a wanton disregard for the safety of both the person and others around them. (constant drunk driving when I was a small child, trying to get me to drink fleecy, or a medicine cabinet full of medication, abuse in all forms towards MANY people)
Sexually promiscuous and often sexually manipulative nature. (I don't know and I don't want to know!)
Superficial charm that can be switched on and off to suit their own needs. (constantly and it is sickening honestly turns my stomach in disgust)
False airs of self-importance that do not reflect their true standing in a society or peer group. (him in a complete nutshell, he is so rude at all times, condescending at every turn, just vile. Not to mention he thinks he is some snobbish high class citizen when he lives in a dirty cockroach infested motel in Downtown Vancouver with no bathroom or kitchen of his own.)
Resentment of any authority that is not their own. (YES)
I am not blind to the things that my father is, I wish that I could have a relationship with him but the evidence is so clear that there is no reaching him, there is no way to have him in my life. I am not the only one that thinks so either.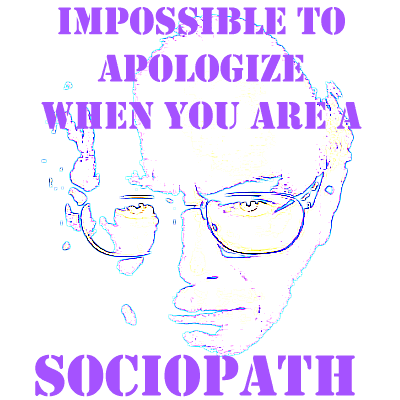 Sadly most of his family knows this, I am sure they have known this for such a long time, just never knew the name for it. Well family, not that you read this, you know now. We've been related to a sociopath, that is why not one person in our family has been able to get threw to him. This is why not one person in our family can deal with him. This is why not one person in our family will involve them in their lives. This is why so many people in our family have a rift between them. This is why so many people in my family will have nothing to do with me, I was born to this man. Not by choice.
My aunts, my uncles, my grandparents on my mother's side haven't had anything to do with me since I was seven years old, because they don't want to have anything to do with him. At one point in high school I was going to move in with my Aunt and Uncle and they declined last minute freaking out that it would force them to open their lives to my father again.
This is a man I can be happy to not have in my life, I can be happy that I wont do to my kids the things he has done to me. They get to experience a life filled with a huge loving and kind family filled with nothing but possibilities; not a world of no's and cold shoulders as I had living with that man.
And that ladies and gentlemen, is the greatest gift you can give your child, a world of love, support and opportunities.
[sources: http://sociopathtest.net/]